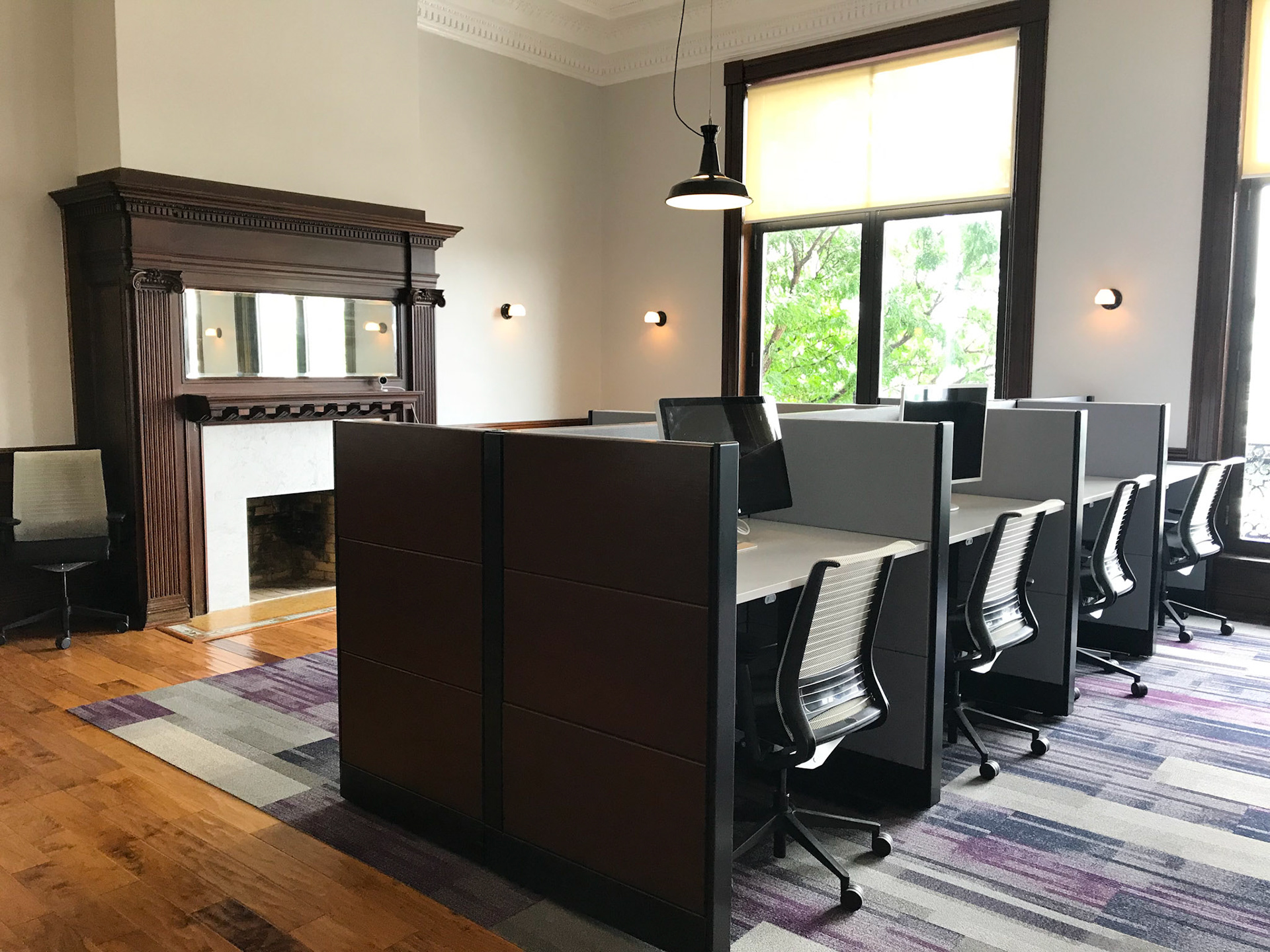 During our initial walkthrough it was impossible to not focus on the stained glass dome in the central, circular room. Sadly the current paint combination hid the features of what was obviously a flower. As we made our way to the main office space it was obvious that the green, yellow and burgundy scheme was everywhere.
As a reaction to the offensive design,  I envisioned the walls painted a traditional white on white, allowing the detail of the wood moulding to be featured. A high gloss finish on the moulding catches the light and creates dramatic shadows, and the moulding throughout the space is dramatic.
For the stand / sit desks, I capped the ends with wood, stained to match the wainscoting so that when you looked through the space from north to south you focused on the floor to ceiling windows and not the workstations. We replaced all the sconces with a more simple design and added hanging warehouse style lighting.
After meeting with my carpet vendor we decided on a recent design from Shaw that allowed color to fade when placed in specific patterns. I chose each tile and laid out the entire floor for the installer to achieve our desired look. This concept was extremely important for the circular room since the furniture in that area would feature colors picked up from details throughout the space.
The final project was branding and merchandise. There were two existing banners on the front of the building and fireplaces in each conference room giving us a perfect platform for the full name. In the circular room we wanted to include a mural and the logo icon, "E." For the mural, I contacted local artist Rubin415. Rubin415's work combines graffiti, public art, and graphic design. His work is impressive and he was extremely respectful to not overshadow the  dome. With their first event coming up soon after launch I contacted my merchant vendor and produced hats, and shirts.