Very few things have been a part of my life for as long as WFMU. My Dad, who is a voracious music fan, collector, and was even a DJ of sorts way back when, was a very early listener of the station. He was a truck driver in NJ and did short haul interstate runs too. Like everything in his life he researched and investigated what the best stations were so as he drove from one city to the next he never lost his groove. WFMU proved to be a regular listen and he passed that onto us. The first time I pledged money to the station I was thirteen. I had emerged myself in Punk and Hardcore and was now looking to its roots. I found that in Bill Kelly's Teenage Wasteland. Eventually my band was playing on the air, I began doing guest DJ spots and was doing some art for the station. If I could do more for the station I would. 
Bryan Beninghove and his crew of incredible players have entertained audiences for over 10 years. Their music ranges from hyper instrumentals to progressive Jazz. If their original compositions and stellar performances weren't enough to showcase their worth as one of the tightest and finest bands around, they took on the songs of Led 

Zeppelin and gave them a unique and new existence. Their logo and designs required the same aggressive and bold style. 
SLOVENLY & BLACK GLADIATOR
No client has been more open to ideas, concepts, designs and styles than Slovenly Recordings and Black Gladiator. I have created logos, advertising, label designs, layouts and cover art for them. All remain favorites in my portfolio…even the ones inappropriate for all viewers…and sometimes especially those. With that said they also have a children's music imprint. These people love what they do and it shows from the music to the incredible brand that they have built, maintain and grow each year. It also doesn't hurt that they have a sense of humor.
BLACK GLADIATOR RECORDS: LOGO AMD BRANDING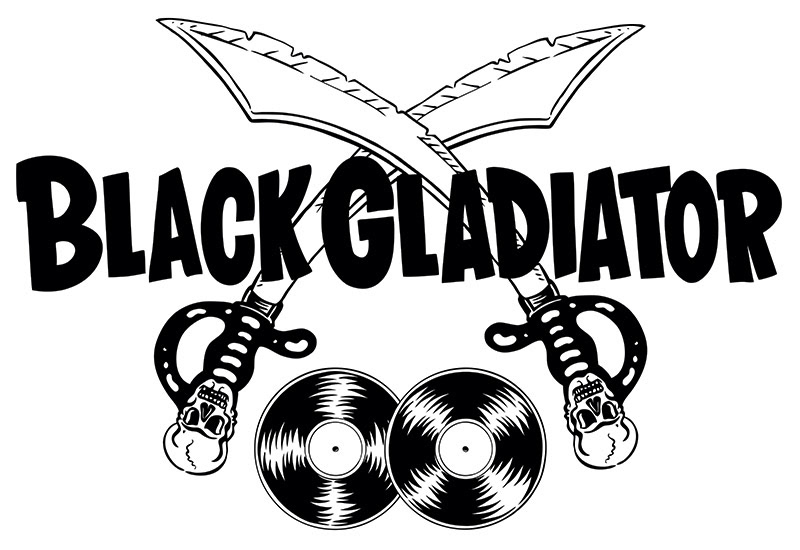 BLACK GLADIATOR: DESIGN, LAYOUT, PRODCUTION
SLOVENLY RECORDS: CHILDREN MUSIC IMPRINT
In the late 80's early 90's I was fortunate enough to work with the art department at Caroline Records. Designing for music related projects comes as easy as breathing for me.  Caroline gave me the opportunity to have my work distributed international in magazines that were influential on my music education and helped me to broaden my horizons. Swill Magazine was Caroline's fanzine. I produced a monthly single panel strip called Fat & Skinny based on the offensive children's poem. I also interviewed Archers of Loaf for the 'zine before most people knew who they were.
THE NATION: WHO CONTROLS THE MUSIC?
I was asked to submit my portfolio and meet with one of the art directors at The Nation. I was told in advance that they operated through the offices of Milton Glazier's Push Pin Studios. I am a huge fan of Mr. Glazier's work and was instantly intimidated by the thought but then quickly realized, if ever there was a group of people you wanted to impress this is it. The subjects were very familiar to me so ideas came quickly. I remember there was a very quick turnaround required so I kept the illustrations small. I knew there could be some line quality issues so I worked meticulously on each one. Ironically, the one piece that had an issue eventually was used in a U2 profile on VH1. Isn't that always the way?